Manzanita makes a perfect cafe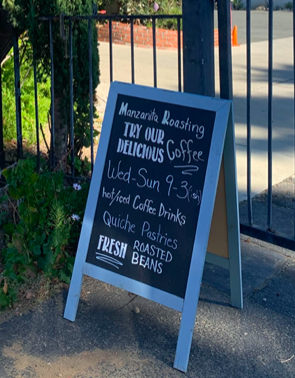 Looking for a quiet, promising place to study? Or maybe a fun brunch spot for you and your friends? Whatever the case may be, Manzanita Roasting Company and Coffee House is the place to be. 
Located at the Bernardo Winery, the 17 minute drive from Poway definitely worth it. When I first entered, I was in awe at the luscious plants hanging from the ceiling and the unique chairs and tables. 
Their drink menu has a variety of options for coffee lovers, from a classic Cold Brew to their unique Brown Butter Latte. For non-coffee lovers, there's also fruit smoothies, lemonades, and teas. Their food menu is smaller but still great, with fancy toasts and sandwiches to filling protein bowls. Items range from $2-$10. I ordered a Buttered Toast ($3.50) and an Iced Brown Butter Latte ($4.75). 
Usually there is seating inside, but due to Covid-19 customers are directed to enjoy their food outside. The outside patio resembles a cute cottage, with a water fountain and interesting seating areas like high tables, gazebos, comfy couches, and tables with mesmerizing designs.
My toast was absolutely perfect. When I received it, the two slices of sourdough bread were still warm and the butter had already melted. It was perfectly accompanied with my coffee. The Brown Butter Latte had just enough ice to maintain it cold but not run down its burst of flavor in every sip. 
I had brought my backpack with me to study. I selected a spacious high table next to the water fountain. The running water provided me white nose to cancel out any distractions to help me focus. 
Manzanita is open Wednesday through Sunday from 9 a.m. to 3 p.m. I will for sure be returning and I absolutely recommend it!