HOMECOMING SPIRIT WEEK BRINGS BLAST FROM THE PAST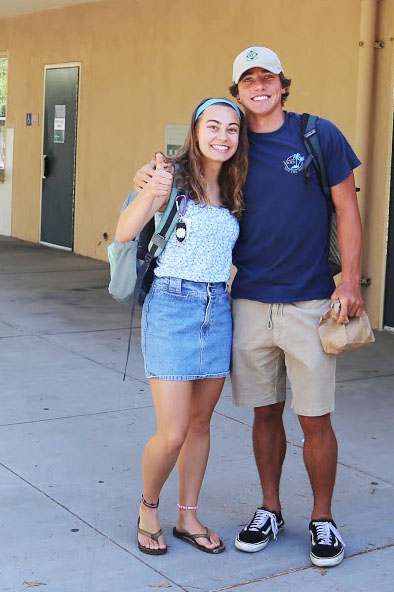 This year's Homecoming spirit week was a blast from the past! To go with the theme of "Born in the 2000's," each day was paired with a childhood favorite TV show. 
The theme aimed, "to create a theme that was special for just our generation because all of the 1999 and below kids are out of high school now, so this would be something interesting for the grades to participate in that only they can understand," ASB executive of activities Lexie Roche said. 
To kick off the week, Monday was a fun colorful explosion to match the iconic fun random dancing in the TV show iCarly. This year's Homecoming assembly was also on Monday, to showcase each classes dance skills, Poway Dance Project, the cheer team, and Tina Titan. 
 Tuesday showcased class spirit as each grade was paired with a color of a different Power Ranger: freshmen decked in yellow, sophomores dressed in red, juniors in pink, and the senior class in blue. 
 Different dynamic duos were all over campus on Wednesday in honor of the best duo out there, Drake and Josh. Other duos were seen on campus such as Shaggy and Scooby-Doo, and Batman and Robin.
Thursday was like looking back to the 2000s, literally, as everyone dressed like they did when they were little. Lots of pigtails, sparkles, and tutus filled Poway High. 
Finally, students brought out their Kim Possible with green and grey on Friday as people dressed in their Poway colors. This spirit week was an eventful way to start off the year's school spirit and promote this Saturday's Homecoming. 
This Saturday at 7 P.M. Birch Aquarium located in La Jolla, will be opening their doors to let all Titans partake in a fun night of dancing and singing. ASB chose this location, "because of the location, the view is absolutely gorgeous because it looks over the ocean and it includes a spacious layout to allow for students to explore halls of fish and various exhibits," ASB member Abby Kowalski said. 
This year will be the first year that Homecoming will include a silent disco, a dance where students can enjoy music by listening through headphones. It also will include a regular DJ located outside. ASB hopes to gain a larger crowd because of what all the location offers. 
Have a safe and fun Homecoming Titans.