Couture leads polo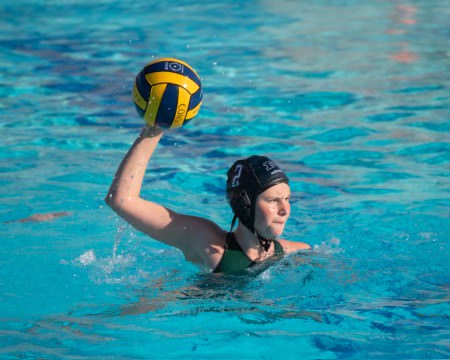 Senior Megan Couture had low expectations when she first joined the water polo team her freshman year. She just wanted to be involved on campus. She had no previous experience at the time and after progressing quickly in the sport, she became the captain alongside senior Harper Hakim their senior year. 
   Couture initially joined the girls' water polo team to just have fun and try something new. Looking back, she is grateful to have had such a good team that was able to work through the struggles that came their way.
   "This is a growth season for me. It's not about winning, but about building up for next season's team," Couture said.
   This past season Couture and Hakim focused on bettering the communication skills of the team to avoid past issues and ensure success. Couture gives feedback in the pool, during practice, or during games to help her teammates achieve their goals. 
   "Megan has such a good attitude, and it's so much fun playing and practicing with her. She balances out my intensity really well which I appreciate," senior co-captain Harper Hakim said. 
   Couture admires her coach Crystal Patterson because she cares a lot about the girls and is always wanting to help out in their personal lives as well as in the pool. It is clear that she genuinely takes care of all the players. 
   Patterson's favorite characteristic about Couture is her "willingness to always learn and grow in water polo and to strive for greatness, not only for her but her team. She always wants the best for her team and then herself," Coach Patterson said. 
   The girls and their coach have led their team to five wins so far in their season. Their biggest win was against Classical Academy 22-5 on Dec. 12. The girls' last game of their league season comes on Jan. 31 where they play their biggest rival Rancho Bernardo at Rancho Bernardo.