Kanye Album Commemorates Deceased Mother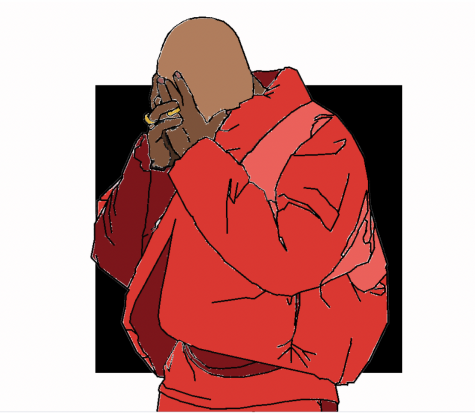 "Donda, Donda, Donda, Donda, Donda," Syleena Johnson hypes up listeners in the intro to Kanye West's 10th studio album, Donda. After great anticipation, Kanye finally released the album on Aug. 29. 
Delayed three  times, because Kanye felt the album was incomplete;  With over 30 vocal features, long awaited tracks, and a litany of speculations, it is clear why Donda had so much hype. Unfortunately, this hype also led to some mixed reactions to the album.
The album as a whole is an 8/10. While having several great tracks, at times, it feels like the album is overwhelmed with some songs that aren't really noteworthy. Granted, they still  show Kanye's unique artistic style. 
Tracks like "Jail", "Off The Grid", or "Heaven and Hell", are especially popular among listeners,  having a combined 129,278,160 listens.
 "Tell the Vision", "Remote Control", and "24" were some more disappointing tracks in the album.
 "Remote Control" let down fans the most because Kanye removed Kid Cudi from the outro, and instead featured a fictional character voiced by Tony Halstead, "Ooh, ha-ha-ha, mmh, splendid Simply delicious, oh, ha-ha-ha I am the glob-glo-gab-galab The shwabble – dabble – wabble – gabble flibba blabba blab". 'Glob-glo-gab-galab' is a character in  the children's film, Strawinsky and the Mysterious House, a popular internet meme in 2018. 
"Off The Grid" is one of the most popular tracks on Donda; the faster pacing and features from Playboi Carti and Favio Foreign, truly make this song a fan favorite. Being placed in the beginning of the album, sandwiched between two other great tracks;"Jail" and "Hurricane," Off The Grid had the perfect conditions to become as popular as it did.
"Jail" is the first track (besides "Donda Chant") on the album, and it includes the first feature with Jay Z in years, due to some drama between him and Kanye. This track has a strong bass guitar instrumental, and some decent vocals in a higher octave than Kanye's usual, to split his vocals from the guitar's low pitch. 
"Hurricane" is another exemplary track on Donda, which has some interesting history to it. The album was first set to release in the album, Yandhi. Fans who listened to leaks found "Hurricane" to be a standout in the album. Unfortunately, Kanye never released this album, and since then, fans had been hoping for this track to release.
It should be said that Donda is definitely not a bad album, about half the songs are really good, whereas on many other albums, most listeners would be inclined to direct their focus to only one or two tracks. Kanye West sings, "He's done miracles on me, He's done miracles on me" in the outro to Donda, "No Child Left Behind".