JOSH LIGAS IS THE GOAT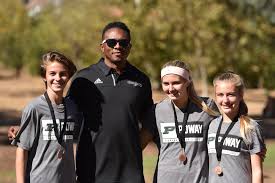 Josh Ligas is in his junior season on the track and has been smashing records and getting personal bests. He's one of the best runners in the area and has a bright future ahead of him.
Ligas is one of the best runners for the Track and Cross Country teams and has shown that this season. "He's got a great attitude and awesome work ethic which makes him a good teammate, " his teammate sophomore Peter Murray said.
At Track Palomar League Finals, Ligas hit his personal best with a 4:25 mile to win the race. All year Ligas had not broken the 4:30 mark, and when he finally did, he was smiling and laughing. Afterwards, Ligas went to CIF prelimination and raced a 4:30 mile.
"CIF prelims didn't play out exactly how, I wanted it to, however it was a very awesome experience to be competing at that high level. I am an alternate for CIF finals so I am hoping I can get in there and drop some more time," Ligas said.
Ligas's impressive form wasn't lost on his track coach.
"He's been working hard all season, and you can see that out on the track,"  Bob Muschek said.