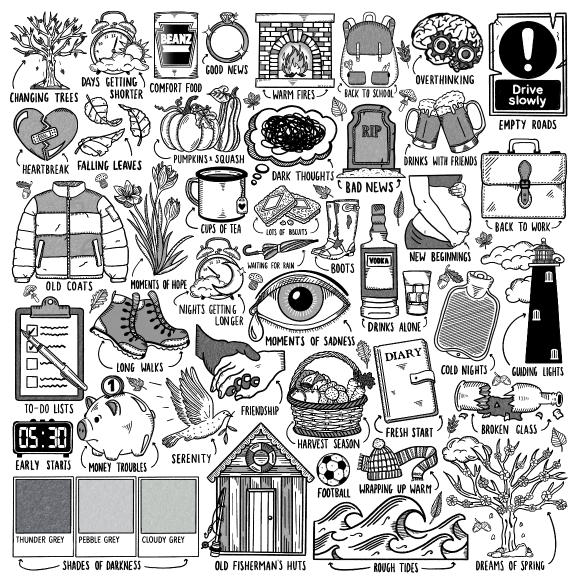 The leaves are falling, and the weather is getting colder, and that means it's time to welcome fall with singer/songwriter Ed Sheeran, who released his second album of 2023, Autumn Variations on Sept. 29. The album feels like new beginnings, friendship, and cold nights.
Sheeran wrote this album with the help of songwriter Aaron Dessner, who has worked with artists like Taylor Swift, Gracie Abrams, and Bon Iver.
Sheeran's inspiration for this album came from the changes that come along with Autumn, not only in the weather but also in people's lives. This album has been months in the making with Sheeran dropping cheeky hints on his Instagram that something special has been in the works.
I instantly put this album on shuffle and let the music play. The first song I listened to was "Magical," which felt like I was being hugged by fall. The instrumentals were amazing, and I am so obsessed with the way they flow flawlessly with the lyrics. Safe to say that as soon as the song was over it went straight into my fall playlist.
The main vibe of the album is pretty deep and gloomy, but, I guess autumn can be deep and gloomy, so I think he did an extremely good job of conveying his feelings through this album. 
The release of Autumn Variations marked the possible start of a new chapter for Sheeran. Considering his past albums were all named after math symbols, and he is wrapping up his "+ – = ÷ x Tour" (pronounced "Mathematics Tour"). shortly after Autumn Variations is released. Each song on the album sounds so different, but they connect to each other in their own ways. The album expands on the struggle of being in love and relationships.
A lot of people on the internet have been giving the new album terrible reviews, but personally, I loved it. My top song is "Magical," but I also adored the songs "The Day I Was Born" and "Punchline." The lyrics in all three of these songs
are relatable and beautifully written. "Punchline" resonated with me because it's all about growing apart from someone but still wanting to be a part of their life.
Originally, I would've never listened to this album or have been aware that it was coming out, but I was influenced by my grandma who just adores Ed Sheeran.
Sheeran wanted to make Autumn Variations solely for his fans. He does not intend to release any singles and no music videos either, according to his Instagram. Along with that, the album is being produced on his own label, Gingerbread Man Records. Sheeran outdid himself with this album, and I absolutely enjoyed it. All 14 tracks have something so beautiful about them, and they are all unique in their own ways.