A major comeback for boys' soccer
After a rough start, the Titans begin on their journey to success.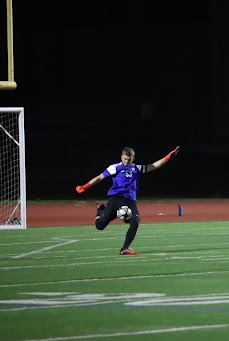 From one side to the other, through the middle and up to the forward, the boys soccer team builds up bearable tension to keep the crowd engaged. Poway's varsity boys' soccer team 2022 season is one to remember as they continue to thrive. 
Although the beginning of the season was rugged, the boys were able to bounce back, winning five and drawing twice in the last seven games. Senior captain James Wagenseller has been a main asset to the team and continuously makes an impact.
"We started off rough but after the first three games we have improved tremendously. We are on a seven-game undefeated streak and I can see us improving on that," Wagenseller said going into their game against San Marcos.
"Our biggest accomplishment was beating two Division 1 teams back to back with decisive wins. We won against University City High School 3-2 with both goals in the last plays of the game, as well as a 6-2 win over Calexico High School," Wagenseller said. 
The other senior captain, Brandon Amos, has also influenced the team. "So far in the season, we found our rhythm as a team on the field, and created a family off the field to form chemistry," Amos said. 
Amos has proven himself on multiple occasions and continues to uplift his team. 
  "My biggest accomplishment this season so far has been putting in hard work during games and practices to prepare for upcoming opportunities," he said. 
Del Norte is always the team to beat, especially with the boys losing to them twice last season. "I am really looking forward to our winning streak continuing, especially against Del Norte," Amos said. 
Coach Gene Morris has big goals for his players and loves to see them succeed. With that being said, there is always a thing or two to build on. 
"Whenever we have big leads, we tend to give up silly goals that can potentially cost us the game, so I would like our team to improve on giving up less of those goals and staying composed," Morris said. 
One of their main competitors is Del Norte High School. "Del Norte beat us twice last season, we want to be at the point where we can beat them, and I think we're there, so I am looking forward to getting back at them." 
Morris also voiced, "I am very proud of the way that the boys have overcome so many obstacles like injuries and our wacked out COVID schedule." 
Watching the boys enhance what they're good at and play the sport they love has created exciting conditions for themselves and everyone around them. The boys have three more games to follow, with an exciting rivalry against Del Norte on the 21st, San Pasqual on the 26th and San Marcos on the 28th.