Who likes waking up earlier for school?
Start sooner, shorter breaks, longer classes, Covid regulations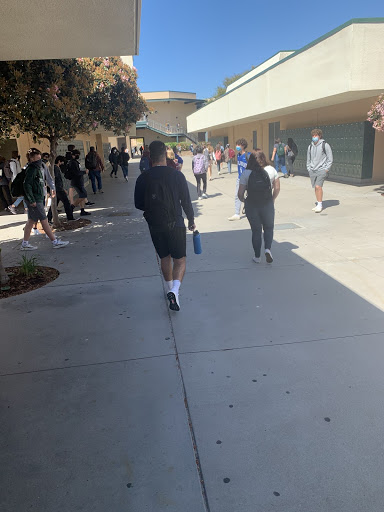 Poway High School has just recently gone back to school for four days a week with all grades back on campus. With this, came a brand new bell schedule that hasn't been seen before, and it has stirred up lots of different opinions.
The new schedule started off with students last names A-K coming twice a week as well as students with last names L-Z. The two groups were separated for two weeks, and the school just changed it to four days a week. 
In the past, I argued on Poway's behalf so that we could get one asynchronous day per week, just like other schools in our district. The new bell schedule incorporates every Friday as an asynchronous day, which is definitely nice to have. Getting a day to relax and do work on our own time is really beneficial, especially when there is no stress of having to join a Zoom on time.
Sadly though, the bell schedule was made so that we now have shorter breaks, longer periods, and we start school sooner. On top of this, we have to follow all COVID guidelines while on campus. 
Now that we will be there for four days a week, I feel that students will grow tired of wearing a mask for multiple hours straight with no breaks until lunch time. The old bell schedule was a lot better in my opinion, but one thing they do share in common is that fifth period off roll students end school earlier than they used to since lunch comes after fourth period.
Hopefully California will lift the mask mandate that has been in place for months. Millions of vaccines have been distributed across the state so far and the plan is to keep rolling them out. If it is lifted, I feel that school will actually begin to feel normal once again, being that you can actually see the person's face that you are speaking with.
Overall, the newl schedule is not really that appealing. It added one thing that everyone likes, but inputted many other things that are not too great.