FOOTBALL HELPS LOCAL SYNAGOGUE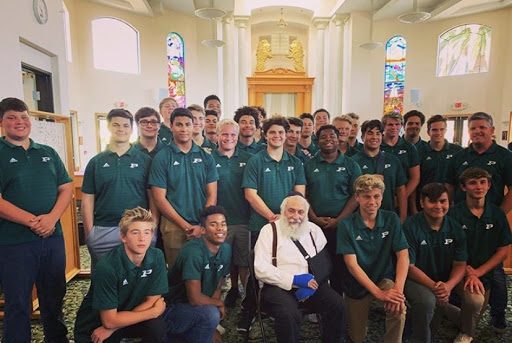 Just six days after a deadly shooting took place at the Chabad of Poway on May 3, 30 football players from Poway High showed their support. The team's leadership council organized the team to help the synagogue set up for services that night.
"Our football team was inspired to help out at the synagogue after our coach told the leadership council about the opportunity a while ago. We are so grateful to the synagogue for creating such an amazing experience to give back to the community," Leadership Council member junior George Fournier said.
The shabbat dinner, which the football team helped set up, was the first dinner held after the deadly shooting, which made it one of the most attended services in recent weeks. In order to help, the team was given a handful of tasks preparing for the night.
"We helped set up tables and chairs, along with putting together the posters on the back wall and placing all of the candles in their places for the service held at the synagogue on Friday night," sophomore Jaeden Roberson said.
"I feel like the experience really helped bring our team closer together, and I left with a warm feeling in my heart after Rabbi Goldstein had said we brought light into his synagogue after such a tragedy," Roberson said
Rabbi Mendy Rubenfeld, the Hebrew School director, is amazed at how the community has come together in the face of tragedy.
"Thank you to Poway and the rest of the world for the support we have been receiving. The Poway Titans who joined us on Friday shortly ran out of tasks seeing as they worked so quickly together and were very dedicated. There is power in numbers, and in our wonderful community, with heroes who charged the gunman, the people who rallied around us immediately after the terror attack, we can support each other through anything," Rabbi Rubenfeld said.