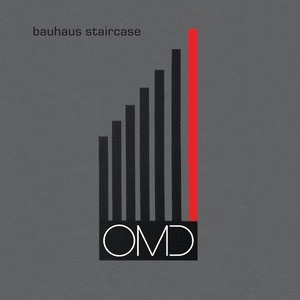 The industrial-sounding noises combine to make a song that is unmistakably that of an 80s band. Orchestral Manoeuvres in the Dark (OMD) released their first single in 1979 and show no signs of slowing down. 
   On Oct. 27, OMD released their fourteenth studio album, Bauhaus Staircase. While it is marketed as a pop album, it seemed to be closer to EDM. That said, songs like "Don't Go," – a personal favorite – are inherently pop. 
    "Don't Go" was released as a single in 2019, and when I saw that song in concert in 2022, I had no idea that it would be on this album. It was a pleasant surprise and it is one of my favorite songs by OMD. 
   Bauhaus Staircase contains content that is pretty dark and focuses on how humans are the direct reason for the Earth's problems and there is no way to stop or even slow down the destruction of our planet. 
   In "Anthropocene" listeners hear the lyrics "Anthropocene, the current geological epoch, dating for the commencement of significant human impact on Earth's geology and ecosystems including anthropogenic climate change."
   There are a handful of songs that sound similar to other songs written by OMD or other 80s songs. The ninth track, "Kleptocracy," has a beginning that strongly resembles "Personal Jesus" by Depeche Mode on one of their best selling albums, Violator. Another track, "Evolution of Species," reminds me of "Genetic Engineering," a song by OMD on their fourth studio album from 1983. 
   The opening song and title track, "Bauhaus Staircase," is one of the weaker songs on this albumI would have placed this song after "Evolution of Species" because the two songs had very similar sounds, and I feel that they would mesh better together than "Bauhaus Staircase" into "Anthropocene." 
   I always enjoy songs that conclude albums because they have the power to bring the topics and themes in an album together. "Healing" is a great final song that really spoke to me. It's a slow jam about how you have to pick yourself back up after you've fallen. Lyrics like "Never have time to fix your crown" and "Let it go, live with ease" were especially poignant and helped to further the album's conclusion. 
   OMD have proven themselves as a force to be reckoned with. Bauhaus Staircase was released on the same day as 1989 (Taylor's Version). Naturally, Taylor Swift has dominated the charts in the weeks since her album's release, however, OMD is right behind her in the UK charts, peaking at the number two position. 
   OMD have always created music that has sounded as though it took little to no effort to create. Everything is seamless, and with a 40 year career to back them up, it is no wonder they are still able to make music that is so creative.