Changing the narrative
New club sheds light on diverse voices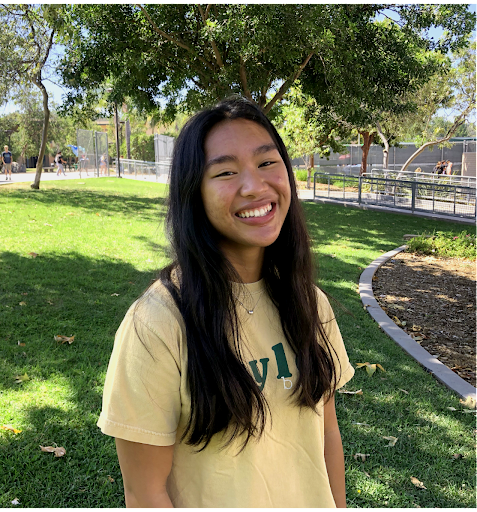 Senior Hailey Jose and Junior Janae Serrano welcome everyone nicely and encouraging, during their Diversify Our Narrative Club meeting. 
The lack of POC learned by students made Hailey Jose jump on the opportunity to teach more people on diversity when Mt.Carmel High school Diversify Our Narrative Club reached out to Poway High school to make the club district-wide. "There is a lack of diversity and lack of POC culture learned in our history books and in our education, and we wanted to help change that," Jose said. At their most recent meeting they had a presentation and showed a video of people blackfishing, then they discussed the video. They discussed that it was very disrespectful. 
Jose and a few others started planning Diversify Our Narrative (DON) last year and officially started the club this school year. 
 "Especially with the new Ethnic Lit and Ethnic Studies classes we were also motivated to start this club so that students who did not have the opportunity to be in these classes can at least join our club," Jose said. Karen Kawasaki-Williams , who recently started teaching the new Ethnic Studies classes advises the club.
"Diversify Our Narrative has club meetings every other Thursday during lunch and they show presentations, videos, and discuss it." Kawasaki-Williams said. 
After break,  Jose wants to collaborate with more clubs that learn about culture. "Hopefully we can collaborate with our other culture clubs like Black Student Union, MECHA, or Asian Student Union etc. and also continue learning and having valuable conversations," Jose said.
Club president Janae Serrano joined this year and helped plan it last year. "I really support its purpose and thought that I should help promote racial equality within student's education to the best of my ability," Serrano said
Diversify Our Narrative meets every other Thursday to "learn about problematic events, different cultures, and discuss their effect on the student body and on campus," Serrano said. She recommends joining the club because "it's great to learn about topics that you might not learn in your history classes," Serrano said.