Kindness is Contagious
Thompson strives to make a positive impact on students in GSA.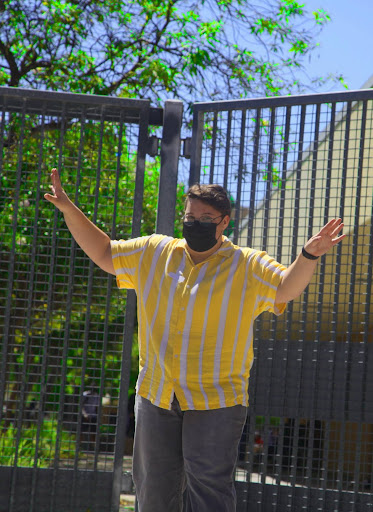 Senior Andy Thompson conveys expression with his hands as he speaks passionately about how stoked he is for the exciting plans the Gender Sexuality Awareness club (GSA) has in store for this year. It is easy to see how at ease every student is as soon as Thompson begins the meeting, and you can practically feel how warm and comforting the environment is, as if he has a magic touch.
Compassionate, strong-willed, and a good role model — is how senior Beth Shea would describe Thompson, the GSA club president.
Thompson technically became president of the club last year, but this is the first year he has run the club in person, due to last year's quarantine. Being president has proved stressful lately, because he wants to be able to execute all the ideas he has planned. However, considering how large the group of nearly 50 people has grown to be, it may be more difficult.
 "I know that I have people that I have to provide for, meet high expectations, and not disappoint," Thompson stated, "but I love doing it, because my whole goal is to be the person I wish I had."
Thompson hopes to make an impact on the LGBTQ+ students at our school, by ensuring that they feel validated, loved, and like they belong. He strives to create a welcoming environment in GSA, where students can come to be shielded from all the possible judgement they may have to face on a daily basis. 
Thompson's ideal 'safe space' at PHS is, "a group of people who set aside any type of judgement to just hang out, learn, have fun, and create a chosen family," he said.
It is clear the extent of effort Thompson has put in to establish a positive atmosphere in the club, and the amount of admiration students have for him shows. 
"I don't feel like there's ever been a point where I've been uncomfortable in GSA. Everybody in there is just so loving," club secretary and senior Kate Bylsma said. "He's definitely made that impression on everybody else in GSA, too, so we all know that's what's being held there."
Along with his dedication to GSA, Thompson has been involved in Peer Counseling since his freshman year. In his free time, he enjoys playing video games and cuddling his pitbull. He recently applied to work at a doggy daycare place, because he loves dogs so much.
"I just think he's a really welcoming person," Paola Simi said, expressing her favorite thing about Thompson. "He's always been so open and kind to everyone around him, no matter who you are."
Thompson aims to be, not only a leader, but also a friend to all in GSA, who may be struggling with feeling accepted in their personal lives. He is determined to go above and beyond to ensure that everyone feels validated for who they are, and that they have confidence in who they want to be.