Maddie Sparrow Sings Like Nobody's Listening
Maddie Sparrow sings star spangled banner gracefully at Varsity football game.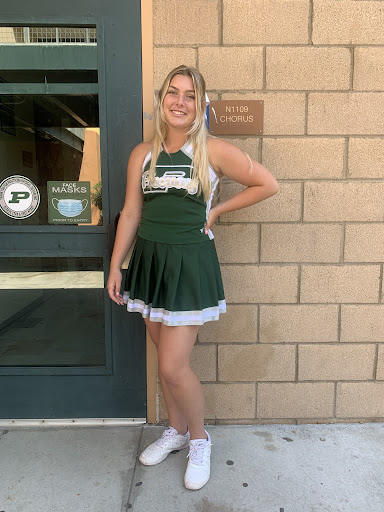 Everybody loves the energy of being at football games with cheerleaders, snacks, dancing and singing. Well, there always needs to be somebody singing the star spangled banner. 
Senior Maddie Sparrow beautifully performed at the first varsity football game Aug. 27. Will she be singing at all the home games? If no, who else will be?
Sparrow has been singing for as long as she can remember. "I do remember growing up watching American Idol and wishing I could be like them someday, so that really pushed me," Sparrow said. 
She has been a part of musical theatre and choir since elementary school. Sparrow does not plan on leaving choir behind as she will be taking it throughout college. 
Sparrow's choir teacher, Jessica Schemmel has been supportive "In her freshman year, Maddie had a couple solos which is very impressive for it being her first year," Schemmel said. 
Schemmel says that Sparrow has been super enthusiastic since freshman year and "is always willing to  put herself out there." Over the pandemic, Schemmel said that Sparrow made beautiful recordings on each of her assignments.
Introducing Sommer as part of her duet.  Is she singing at games?"Maddie has a job that she works hard at and is very accomplished in cheer and choir, and she always seemed like a student who wants to be there and puts in effort," Sparrow's classmate, senior Katelyn Sommer said. 
According to Schemmel, "Sommer's voice pairs up with Maddie's quiet well and they compliment each other's strength to be the one of the best duos there are. Sommer says that Maddie always knows how to make people feel welcomed, and welcomed new incomers with open arms. 
Sparrow says she would not know what she would do if she never did singing.