A Fresh Face in German
Bringman brings new energy to an old class.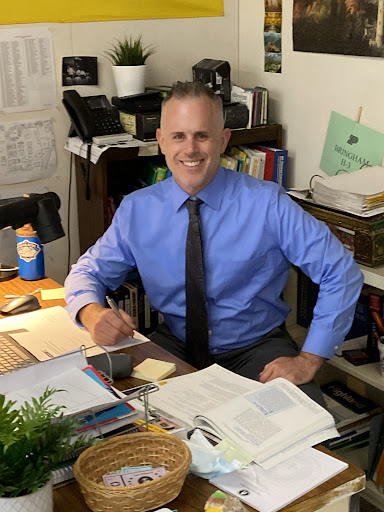 Walking into the open and barren German room is a sight to behold. Gone are the various posters and miscellaneous items that littered the old space, and with the new decor such as various posters around it comes a new face to German class, Elliott Bringman, who will be our new German teacher here at Poway High School.
Education is important to Bringman."I always wanted to give back to the community, and teaching is a great outlet for that."
German piques his interest, and he seems wholeheartedly invested in the subject. "I find the culture of Germany extremely fascinating, as well as how interesting the language is," he said.
"The students in my classes are fascinating people who love to challenge themselves academically." Bringman exclaimed, his students have obviously already made a positive impression on him.
His opinion about our school as a whole is well-aligned, and he has seen the best in what we can be around campus. 
"Poway High has a fantastic learning environment that balances academics and student unity," he said.
Students are excited to see how German class compares to that of retired teacher Marion Von Ehrenstein-Smith, commonly known as Frau,  
"Frau was always on top of you and making you want to be better," junior Sam Ramos said. When asked what he is most excited about to see change when he returns to German next trimester, Ramos ponders, "I'm curious to see how different his teaching style is going to be compared to Frau."
Students already in the classroom, such as Junior Austin Ring are quickly becoming accustomed to his teaching style. 
"He (Bringman) is very tolerant of mistakes, and me and my classmates are definitely enjoying the content so far," he said.