Cecil Hotel Documentary Series takes Netflix by Storm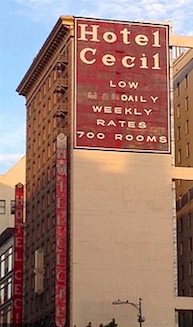 The world sits in wonder as they await to hear of the whereabouts of Canadian exchange student Elisa Lam, a girl who mysteriously vanished from the "haunted" Cecil hotel. A four- episode series about her disappearance appeared on Netflix in early February and captured the audience's attention immediately The shows intense mystery and crime effect launched itself up onto Netflix's  #1 most watched position for over a week after its launch. 
This documentary shows the real life story (step by step) of the missing girl and the days that followed through an investigation by the Los Angeles Police Department. 
Lam was a 21 year old student who went off on her own for a thrilling west coast trip through California in 2013. She first stopped in San Diego, then made her way up to Los Angeles. She was unfortunate enough to book a room at the "Stay on Main" branch of the infamous Cecil Hotel. Whether she knew the dark history of the parent hotel, no one is sure. 
The Cecil hotel itself is a building with a daunting history. It is both a residential and public hotel with a history of at least  80 deaths and one to three calls to 911 each day. 
"Anything above the sixth floor is dangerous," Kenneth Givens, a resident of the hotel for several years says in the documentary.
In fact,from 1984 to 1985 the Cecil Hotel was "home" to Richard Ramerez the "Night Stalker"- a serial killer who was convicted of stalking, raping, and murdering women in  LA.
This series explores the dark and dangerous history of the hotel, it's relationship to nearby Skid Row- the hot spot of homeless on LA's streets, and the watch-along timeline of this daunting case. 
It's interesting to see how the show documents and explains each step of the process from figuring out what happened to Lam, and once found, unraveling the timeline of that fateful night she disappeared. Along with that, viewers get an inside view of the unique ways the public reacted and responded to Lam's disappearance and the case. 
Overall, I would recommend "Vanishing at the Cecil Hotel" to anyone who is interested. It is not for someone who typically has issues with creepy stories, but I would not say that the documentary was scary. It is simply gorey and takes a strong stomach to digest the situation, as this did happen to a real girl. 
Ultimately it is a very interesting show with a strong mystery aspect that really got me thinking about how indeed Elisa Lam ended up where she did.