Bridgeton Review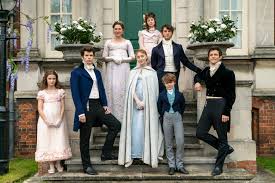 On Dec. 25 Netflix released the limited series Bridgerton, which follows the Bridgerton family, a widow and her eight children, as they navigate English society that's full of gossip and secrets. 
Actors Phoebe Dynevor (Daphne Bridgerton) and Cluadia Jesse (Eloise Bridgerton) portray women to be powerful people who will fight for what they believe in. 
Many Titans' favorite character Penelope Featherighton (Nicola Coughlan), plays a crucial role in the story line and has an interesting backstory. Others were Eloise because of her iconic character and how she shows her struggles fitting in and being "perfect"  like her sister, Daphne. 
It is a good enemies to lovers show, filled with cute and steamy moments which made the show even more riveting and R-rated.. 
One of my favorite scenes in the show was when all the ladies in the town gossiped to get rid of the awful suitor that Daphne had. It was a very powerful and intelligent move to get rid of unwanted admirers.
There was amazing acting and many romantic scenes which got many of the audience's attention. But my opinion is that the movie should have had more humor and more happy wholesome moments. Overall, it is really an outstanding show that surpassed everyone's expectations.