Carti Gives Us A Whole Lotta Disappointment
Playboi Carti Releases his Newest Album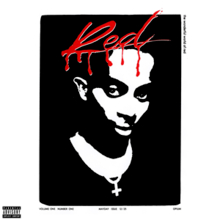 It has been two years since Playboi Carti's last album,  "Die Lit", which was a huge success, receiving many positive reviews and praise from his fans. These fans have waited two years for his next album "Whole Lotta Red". After it was teased, many were excited for the release on Christmas day.
It was clear from the opening song, "Rockstar Made," that Carti was experimenting with different kinds of beats than usual. However, the song became very repetitive halfway through where he repeated "Never too much" 16 times in a row. The entirety of the album had lyrics like this repeated far too many times. I found it took away from the song, and it was very annoying.
One of his songs "Go2DaMoon" featuring Kanye West, felt more like a Kanye song as he took up half the song with some very strong lyrics. The song was great until Carti started singing repeating "What" several times. 
I found the entire album very challenging to get through, as most of the lyrics were repetitive, and the vocals were very annoying compared to many of his older songs. I would only recommend people listen to this album to truly understand what it means to be disappointed. 
One of those people being a fellow Titan, "It had a lot of hype and it didn't come through, it was garbage. Hopefully the deluxe is better," senior Jaeden Roberson said. I hope Carti takes in the criticism he is receiving and learns from it to produce a far better album next time. For those feeling that disappointment, I would recommend they listen to Mario Judah's "Whole Lotta Red" instead. The album was originally made by Mario Judah in order to push Carti to release his album, but it ended up taking the spotlight.