New People Figuring Out the New Normal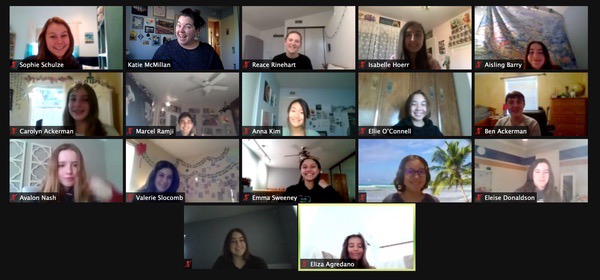 Waking up early Saturday morning, students get dressed in their business casual clothes, get their notes, text their partners, and log onto Zoom, where they will spend the next ten hours. Although the routine is a little different in these unprecedented times, clubs like Speech and Debate have adapted and have transformed to a new normal for this school year, and haven't skipped a beat, winning many of their debates.
The 5.5 class started off with a mountain of challenges this year. From having no elected leadership positions after the abrupt ending to last school year, to having very few returners, they had a lot to figure out. Despite that, coach Kathryn McMillan got the class going quickly.
After a group of students came together to help her create a leadership body instead of the traditional presidential system, McMillan was surprised by the students' quick start to the year, especially the first-timers. "The kids did great though, and it's hard because the debate they were doing is a two person debate…but they were at different houses so preparing to debate as a unified force apart was hard," McMillan said.
Students are still enjoying the class, even with the restrictions of online learning, and the first-timers are still learning what they need to learn and students competing are still able to prepare adequately. "It's actually transferred online pretty well," first-timer, junior Lorelei Barry said. "There's a lot of things we can do through Ms. McMillan… She can put us in breakout rooms, and we can practice what she just taught us with other students…. Some parts aren't as interactive now that we're over Zoom, but she's still done a really good job at making it fun and interactive," 
The aspect of speaking in front of a virtual audience has produced mixed feelings, with some experienced students being upset that they can't show off their skills in front of a crowd while it's given more nervous students a boost of confidence to take the next step.
"Last year I feel like I got more experience and was able to learn more because a whole part of speech and debate is the public speaking aspect, and I feel like that's hard to master online," veteran sophomore Sophie Schulze said. "But this year it allows people who may be a little more nervous about speech and debate to step out of their comfort zone since all of our tournaments are online,"
The team has done a great job in their competitions. Even without the ability to use body language or other gestures in their debates, Poway has still been taking it to the competition. Freshman Avalon Nash and sophomore Sophie Schulze have worked together to win three out of their four rounds at both of the tournaments they've participated in.
Most students still feel like they're gaining the experiences, knowledge, and friendships that they joined Speech and Debate for. Still being able to debate and have class, they're happy that they still have the opportunity to participate and compete.